About the Book
In music studies, Timothy D. Taylor is known for his insightful essays on music, globalization, and capitalism. Music in the World is a collection of some of Taylor's most recent writings—essays concerned with questions about music in capitalist cultures, covering a historical span that begins in the late nineteenth and early twentieth centuries and continues to the present. These essays look at shifts in the production, dissemination, advertising, and consumption of music from the industrial capitalism of the nineteenth century to the globalized neoliberal capitalism of the past few decades.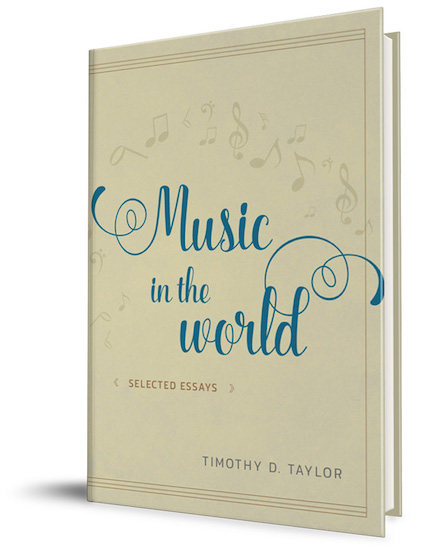 Editorial Reviews
Taylor's work is mature, commanding, ambitious, and desperately needed. He is one of very few ethnomusicologists who have put capitalism at the center of their critical questions, historicizing different forms of free enterprise culture that have shaped music production, consumption, and dissemination over the last hundred years. By naming things that have previously been treated amorphously by music scholars, Taylor brings into sharp focus the core dynamics of global music industries. Music in the World offers a trenchant theoretical framework. For Taylor, theory never plays out on an abstract or ahistorical plane.

- Deborah Wong, UC, Riverside
Music in the World is a critical reference for engaging dynamics of contemporary musical globalization. But it is considerably more: a deep exploration of the value of meaning and the meaning of value in music under capitalism.

- Steven Feld, School for Advanced Research
Timothy D. Taylor
Timothy D. Taylor is professor in the Department of Ethnomusicology at the University of California, Los Angeles. He is the author of several books, most recently Music in the World, also published by the University of Chicago Press.